A few years after the launch, the most popular cryptocurrencies, such as Bitcoin and Ethereum, faced problems with scalability and higher transaction fees. In 2017, developers came up with the solution- Bitcoin Cash.
Bitcoin Cash is a hard fork of the Bitcoin blockchain with a basic set of rules aiming to make peer-to-peer transactions easier and cheaper for the users.
In 2017, when people faced problems with scalability, the Bitcoin developers proposed a solution that could increase the size of the Bitcoin blockchain. However, most of the group disagreed with the software proposal, which led to the development of a hard fork version of Bitcoin.
Now it is difficult for the user to choose the best one. That is why we suggest if you want to transact a huge amount, you should trust the time-tested solution, i.e., Bitcoin. However, if you want to transact a small amount, you should use Bitcoin Cash for a better user experience and faster payment.
Indeed, Bitcoin Cash is not popular as its original version, but it has developed and gained wide popularity in the last few years. Many merchants have started to accept Bitcoin Cash as a payment method.
Still, we think the future depends on adaptability. From investors point of view, will it provide the same amount of return as Bitcoin?
At the time of writing this post, BCH was trading at $357. We can find a support level around $280, but the coin has taken a bullish turn and may face resistance around $424.
The BCH coin has been consolidating around the support level, but we think retail investors should enter when it takes another support around $500. We have to analyze the short-term and long-term charts to better understand the price movements.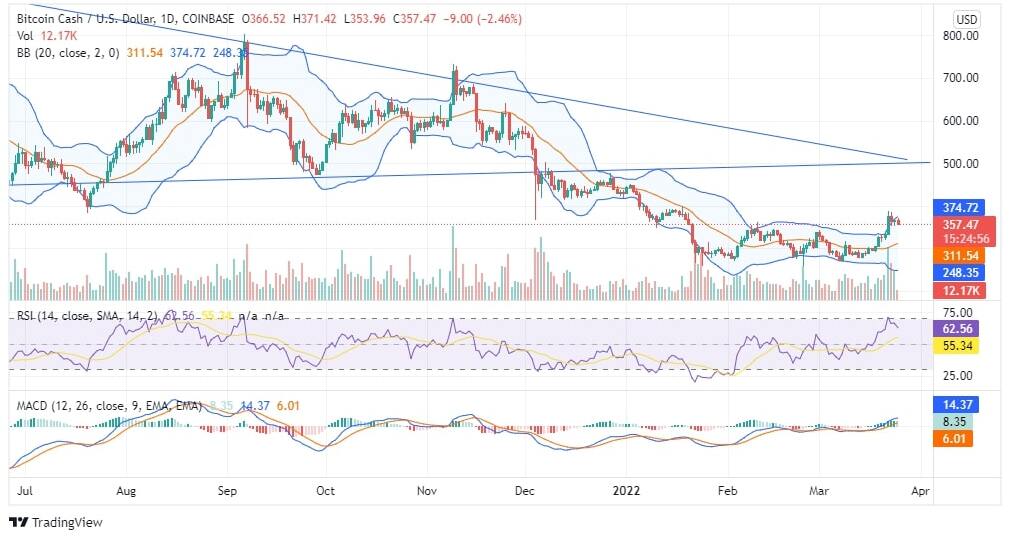 In the short term, the coin is bullish with a green histogram on the MACD line. The RSI is stable at around 62, and candlesticks have broken the upper half of the Bollinger Bands. Traders can find a breakout from the immediate resistance level towards the crucial resistance level of $500. As per Bitcoin Cash predictions, it can be a good opportunity for you to gain profit in the short term.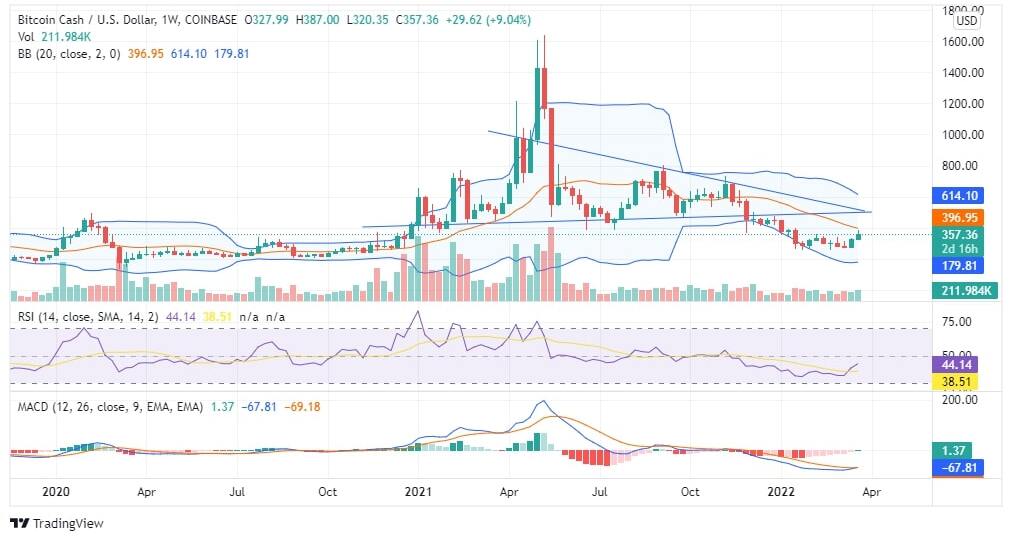 However, on the weakly chart, the price broke the triangle pattern in the second week of December, and now it is coming around the same zone again. After reaching that level, it may consolidate or go upward.
It will face major resistance around $614 again in the long term, and we do not think it will cross the level this year.