Introduction
Litecoin has come a long way following its parent cryptocurrency's footsteps as an alternative cryptocurrency. It was created by Charlie Lee in 2011 at a price of just $4 and made its way through the decade last year, reaching over $400. But ever since then, fluctuations have been noticed in its price, thus keeping it quite a mystery for investors to rely on. Let's analyze the price history of Litecoin, how it works, its predicted future, and whether it's profitable enough to invest in.
Price History of Litecoin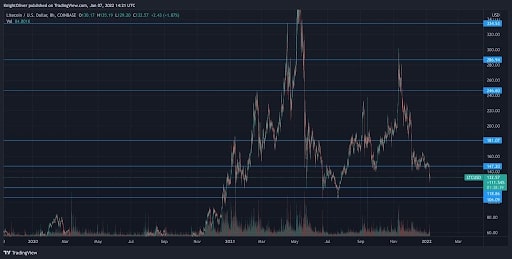 Litecoin has become one of the oldest cryptocurrencies in the Fintech market and even more the earliest alternative cryptocurrency as well. It shares its price fluctuation to bitcoin even though Litecoin started at a slower pace with just $4. The earliest high price of Litecoin was $375.29, which was recorded in December 2017. The lowest was at $1.11 in January 2017. Also, in 2021, the crypto seemed hopeful at $410. Ever since then, constant fluctuations have brought it way down from its higher peaks. Even with all this topsy-turvy behavior, stability is still there in its fluctuation, making investors optimistic about its future in 2022.
What Is Litecoin?
Referred to as an improvised alternative bitcoin, Litecoin was invented to create a cryptocurrency that works like bitcoin but can offer quicker and cheaper transactions. It also promised sustainability and longevity as a cryptocurrency and thus became a lighter and reliable version of bitcoin. Here are some highlights of Litecoin:
| | |
| --- | --- |
| Name | Litecoin or LTC |
| Price | $130.78 |
| Market Cap | $ 9,028,361,705 |
| Highest Price | $412.96 |
| Lowest Price | $1.11 |
| ROI | +3540.55% |
| Supply | 69,381,408 LTC |
Working of Litecoin
It works quite similarly to that Bitcoin as it is also a virtual cryptocurrency but is way faster for everyday payments and at cheaper transactional costs. It is a favorable option for smaller transactions as Litecoin's atomic swap technology smoothly operates cross-border transfers. Litecoin has a finite supply of coins and uses an efficient mining algorithm, Scrypt, for its functions. It can successfully process 56 transactions/second.
Moreover, it also has minuscule fees compared to payment platforms like PayPal.
Is it profitable to invest in Litecoin?
Even if there have been fluctuations in Litecoin's price, it has been hailed as a profitable investment in 2022. The reason behind this is if LTC keeps an upheld price trend this year, its bull run can make it a useful crypto to invest in. It has been said to have a better potential for growth than Bitcoin. Click here to check about litecoin potential in detail. Even better is that its finite supply and scarcity can keep it safe from inflation and depreciation, thus turning it into a strong long-term investment.
Future of Litecoin
The future of Litecoin looks optimistic as investors are finding better ways to trade this alternative cryptocurrency. There are more updates for Litecoin ahead and exchanges like Xetra listing it, and it can turn out to be a trend. Charlee Lee, the Founder of Litecoin, also made his way back to the cryptocurrency and stated that there are two major updates to be added that can affect its privacy and fungibility. This can be made possible with MWEB, i.e. MimbleWimble Extension Blocks, which will be added to Litecoin in coming years.
Conclusion
Hence, despite its price fluctuations, various factors seem to show hope for Litecoin's future. Market analysts have said that it will be a profitable cryptocurrency, especially in the coming 5 years. This can happen if the updates and its bull run provide it with the strength it needs to become a beneficial investment.